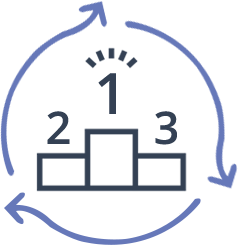 360 Feedback Articles
Lumus360 have had a lot of experience with 360 degree feedback. To try and pass on our knowledge to others, we have put some key information about 360 degree feedback into some articles for your reading:
360 Degree Feedback Coaching - Why is 360 feedback coaching so important? What do people expect? How should the process be structured? What are the underpinning coaching principles? 360 review samples of how to get it right.
The Seven Sins of 360 Feedback - Our experience clearly indicates that there are seven key areas that differentiate those organisations that successfully use 360 feedback to raise manager and organisational; performance levels and the rest!
360 feedback – Who should see what - This article addresses the practical challenge of how to provide participants with a sense of control/ ownership over their feedback, whilst at the same time ensuring Line Managers have access to sufficient data to enable them to take an active role in supporting development planning
Using 360 feedback for performance management / reviews – Using 360 feedback as a performance appraisal tool requires a different approach to that used in supporting manager development. This article outlines the key ingredients for successfully implementing 360 within the performance management arena.
Making the Most of 360 Degree Feedback - Feedback into Action - This article explores the transition steps involved in successfully converting feedback into performance improvement. Feedback recipients need to identify ways that they can address and build on the messages received and gain the confidence and commitment to follow through on development intentions.
360 - The Real Story (PDF) - This published Lumus360 article takes a lighter (but true) look at the different ways people deal with 360 degree feedback. It is based on real coaching experiences and offers some practical observations and 360 feedback samples of how different people approach their feedback and how best to coach and support them through it.
Comparing 360 Feedback Providers - Written for those conducting research or those looking to purchase 360 feedback services. These notes are designed to provide a greater understanding of the most import 360 feedback buying criteria
Making Training Stick - This article provides a 21st century solution to supporting Line Managers to turn learning into measurable benefits to their organisation.
What is 360 Degree Feedback - A great explanation of what 360 degree feedback is and what its pros and cons are.
360 Degree Feedback Tools - At a Glance For those who are relatively new to using 360s, this article provides a brief history, general overview and what to expect from the latest generation of 360 degree feedback tools. It also explores how they can be used to enhance a range of development interventions including Leadership and Talent Management Programmes, Performance Coaching and Team Development Events.