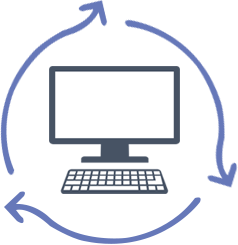 Self-managed 360 Feedback software
This web-based (Software as a Service) 360 feedback system uses the proven Lumus360 feedback collation, automated email and report generation engine, hosted on our secure server, but provides organisations with instant access to everything needed to run their own 360 feedback projects with ease.
Typically, our clients use this service because:
they want complete control over the entire feedback process
they have the internal resource to carry out some administrative actions
they will be producing 100+ reports per annum and want to take advantage of the cost benefits of self-management
With this package you'll get...

Fully customised build
Following on from an initial scoping conversation to establish the detailed survey tool design, delivery plan and specific next steps, our 360 software builds typically take 2-3 weeks and comprise:
Support with questionnaire design - with over 15 years' experience of supporting organisations to develop 360 degree feedback questionnaires that are 'fit for purpose', we will help with this in any way we can. Questionnaires can take whatever shape (question type/ quantity, format, scale, use of open text etc.) you like and there is no limit on the number of questionnaires that can be made available.
Building the 360 feedback tool to meet your needs - Things like:

User experience – the journey participants and respondents take through the process
Online screens – the look, feel, functionality, content and mobile friendliness
Automated emails – initial invitations and reminders, the content, quantity and triggers
Administrator controls – simple and intuitive administrator access and functionality. All the features you need, and only the features you need. Things like:

the bulk uploading of user details
questionnaire selection and design
email updating and resending
timeline management
easy monitoring and report production

Automated functionality – working with you we aim to automate everything possible.
Branding to meet your requirements – much more than just the insertion of your logo.
Feedback groups - the names of reporting populations, their minimum/maximum numbers and how respondents will be identified etc.

Report template development - A variety of reporting templates can be incorporated. All of which can be tailored along with how / by whom they are generated. A typical reporting suite would include:
Following the initial build, we always encourage clients to pilot the complete process in order to identify any improvement ideas before it is used with the wider business.
Administrator and other training
The Lumus360 team have a wealth of experience in IT training and the wider people development aspects of ensuring feedback reports are used to add real value at individual and organisational level. Training and development activities can include:
Administrator Training - Included in our 360 degree feedback software package is a half-day session for up to 6 people – The training focuses on 'my role as an administrator' and includes all aspects of tailoring individual feedback projects, getting 360 cohorts underway, monitoring progress and report production.
Train the 360 coach – These workshops are designed to provide up to 12 delegates with the skills, experience and confidence needed to effectively facilitate/coach others through their 360 feedback reports - £750 + VAT.
Implementation support
It doesn't end with the handover of your 360 feedback system. Lumus360 stay with you every step of the way and help in any way we can.
Our 360 feedback Software as a Service package includes:
Dedicated technical support – We will always respond to any technical support requests ASAP (in and outside of normal working hours).
Routine maintenance – This is always conducted outside of normal working hours (early hours Saturday or Sunday morning) in order not to interrupt service. You will also be notified prior to them being carried out.
Software improvement and updates – when these become available, clients are asked if they would like their software to be updated (at no cost). Upgrades/improvements are then scheduled with the client and would not normally require any loss of service.
Pricing
Lumus360 do not have hidden charges or complicated fee structures to decipher – it's simple. The fully inclusive costs for our 360 feedback Software as a Service package are:
Development - This is a one off fee that covers all aspects of the survey tool design/development and the half day 'train the administrator' session - £450 plus VAT and travel expenses.
Licence Fee - A 12 month licence that allows a limited number of 360 degree feedback reports to be administered/produced. The fully inclusive licence fees are:

Up to 100 x feedback report downloads - £4,500 + VAT (i.e. - £45 per report)
Up to 250 x feedback report downloads - £7,500 + VAT (i.e. - £30 per report)
Up to 500 x feedback report downloads - £9,000 + VAT (i.e. - £18 per report)
Up to 1000 x feedback report downloads - £10,000 + VAT (i.e. - £10 per report!)
1000 plus (unlimited) feedback report downloads - £12,500 + VAT
Ongoing consultancy and outstanding customer service throughout
Much more than just a 360 technology provider, with Lumus360 you also get:
The strategic support to ensure your 360 initiative really does add value
Access to our free questionnaire design service
Outstanding client support
Free access to all the resources and supporting materials necessary for success
Looking for something else?
Check out our other 360 feedback products