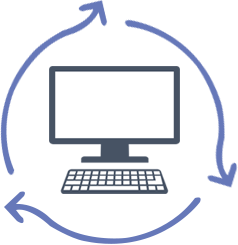 Self-managed 360 Feedback System
Our 'self-managed' 360 feedback system is best suited to organisations who require more than 50 reports and would prefer to manage and administer the 360 feedback process internally.
The system is built around your needs and we provide full administrator training.
Fully customised build
Following on from a detailed scoping conversation, we'll design and then build the system to meet your specific needs. Most 360 software builds typically take 2-3 weeks and comprise of:
Questionnaire design support - with over 15 years' experience of supporting organisations to develop 360 degree feedback questionnaires that are 'fit for purpose', we will help with this in any way we can.
Building the 360 feedback tool to meet your needs - Things like; user experience, questionnaire, automated emails, branding, report format, administrator interfaces etc. will be fully customised to meet your needs.
Piloting and updating – Following the initial build, we always encourage clients to pilot the complete process in order to identify any improvement ideas before it is used with the wider business.
Feedback Reports
Reports are instantly available and the typical suite includes:
Standard 360 Feedback Report - based on years of feedback and best practice, reports are simple to understand and designed to work for all learning preferences.
Comparative Reports – used to measure an individual's progress, these reports compare the results of an old 360 survey with the new one.
Training Needs Analysis (TNA) – These reports collate feedback from a group of participants to produce a high level executive summary. Ideal for identifying development opportunities and collective themes.
Administrator training
As part of the package, Lumus360 will provide a half-day session for up to six people.
Implementation support
It doesn't end with the handover of your 360 feedback system. Lumus360 stay with you every step of the way and will help in any way we can. This includes:
Dedicated ongoing support – We are always here to help you and will respond to any requests as soon as possible, whether there is a technical issue or you just need reminding about how your system is configured, we are happy to help and will respond to you as soon as possible
Continuous functionality improvement and updates – we are constantly striving to improve our core 360 system with industry leading functionality. All updates are offered at no cost and without any loss of service.
Pricing
Lumus360 do not have hidden charges or complicated fee structures to decipher – it's simple. For our self-managed 360 feedback system, you simply pay a one off development fee and a 12 month licence cost depending on how many reports you are going to run.
Development - This is a one off fee that covers all aspects of the survey tool design/development and the half day 'train the administrator' session - £450 plus VAT and travel expenses.
Licence Fee - A 12 month licence that allows a certain number of individual 360 degree feedback reports to be produced (there is no restriction on the number of TNA reports downloaded).
The fully inclusive licence fees are:
| Number of reports required per annum | Total Cost (Ex VAT) | Notes |
| --- | --- | --- |
| Between 50 - 75 | £3,000 | I.e. as low as £40 per report |
| Between 75 - 100 | £3,800 | I.e. as low as £40 per report |
| Between 100 - 200 | £7000 | I.e. as low as £35 per report |
| Between 200 - 300 | £8000 | I.e. as low as £26 per report |
| Between 300 - 500 | £9000 | I.e. as low as £18 per report |
| Between 500 - 1000 | £10,000 | I.e. as low as £10 per report |
| 1000 plus | £12,500 | Unlimited report downloads |
Ongoing consultancy and outstanding customer service throughout
Much more than just a 360 technology provider, with Lumus360 you also get:
The strategic support to ensure your 360 initiative really does add value
Access to our free questionnaire design service
Outstanding client support
Free access to all the resources and supporting materials necessary for success
Looking for something else?
Check out our other 360 feedback products