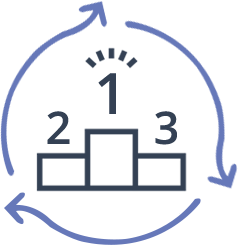 Why Lumus360?
Established in 2000, Lumus360 lead the way in:
Customisation – We don't do 'off the shelf' - All of our surveys are built to meet your needs. You decide the branding, user journey / experience, questionnaire format, rating scales, email messaging, report production etc.
The 'know how' to get 360 feedback right – We specialise in getting 360 feedback right in the context of:

Its use within leadership development programmes
Embedding new ways of working/ realigning management cultures
Enabling managers to take their performance to the next level
Supporting underperforming managers to raise their game

Value for money – We do not charge for questionnaire development, survey design, system building, administration consultancy etc – All you pay for is the number of feedback reports produced.
Implementation support – Much more than just a software provider, we pride ourselves on providing the strategic support, resources and guidance to ensure your 360 initiative is a great success. Our consultants can also provide first class coaching, facilitation and coach/ line manager as 360 coach training sessions
Technical excellence - our 360 feedback system comprises of a fully automated, secure web based 360 survey engine, with built-in quality control mechanisms that ensure we get things right first time.
User friendliness – The whole process is simple, intuitive and user friendly including our easily understood 360 survey feedback reports.
The ultimate team - The Lumus360 team brings a powerful mix of organisational awareness, senior development experience and technical excellence. Skilled in all aspects of 360 feedback tool design, system building, implementation and client support, our team includes a System Engineer, Client Manager, Data Analyst / Report Specialist and several Management Development Consultants.
Looking for something else?
Check out our other 360 feedback products