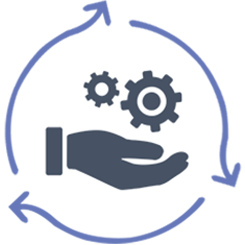 360 Degree Feedback
Our 'fully managed' 360 feedback service is perfect for medium and larger organisations, who want a 360 feedback survey tool designed around their needs but then handover any implementation administration to a dedicated resource.
We also provide the same service to consultants and training providers.
With this package you get a 360 feedback system customised to meet your needs and then our customer service team manage the process on your behalf.
Fully customised build
The following services are provided free of charge...
Questionnaire design – Total flexibility. We are happy to:

Use your existing questionnaire
Develop a questionnaire from your existing competency/ behavioural framework, appraisal or values documentation
Provide access to our comprehensive database of questions or questionnaire design tool
Provide a range of 'off the self' proven questionnaires

Customised survey tool build – Typical customisation includes such things as:

Questionnaire presentation (rating scales, the use of free text questions etc.)
Branding
User journey
Online screens
Automated emails
Feedback reports
Outsourced implementation
In this service, we take all the hassle out of administering the feedback collection and report production process. Our excellent client services team ensure manage the whole feedback process to ensure everything runs smoothly. The key benefits being:
Any user support or help desk functions are handled quickly and professionally (in and outside of normal working hours)
No additional burden placed on in-house staff
Removes the perception that confidential information could be accessed by internal staff
No in-house administrator training
Hassle free!
Even though we run the complete process on your behalf, you'll still have direct access to a dedicated Project Manager and an overview of progress at all times.
Feedback reports and costs
Lumus360 don't charge for consultancy, administration, design, development, survey building, set up fees etc. – You simply pay for each report that is produced, based on the (per annum) pricing below:
The first 25 reports - £90 each + VAT
The second 25 reports - £75 each + VAT
After 50 reports the price reduces to - £60 each + VAT
After 75 report the price reduces to - £50 each + VAT

Comparative Reports – An addition to our standard report that compares the results of an old 360 survey with a new one - additional £20 + VAT per report
Training Needs Analysis (TNA) – Collating feedback from a group of participants into a high level executive summary, ideal for identifying collective themes and development opportunities - £200 + VAT per report
Optional supporting services
Whilst 360 degree feedback is a powerful tool, just participating in the exercise does not guarantee results. Our experience suggests that without some form of feedback support, the majority of participants do not have the knowledge, skills or 'feedback maturity' needed to develop balanced action plans and see them through to fruition.
Lumus360 provide a range of additional services:
Individual coaching - Typically a 2 hour session in which the 360 degree review coach supports the participant to convert their feedback report into a next steps action plan - £250 + VAT per person
Group facilitation - A one day workshop for up to 12 participants. The session results in everyone walking away with a clear development plan based on their 360 feedback - £900 + VAT
Train the 360 coach - These workshops are designed to provide up to 12 delegates with the skills, experience and confidence needed to effectively facilitate/coach others through their 360 feedback reports - £900 + VAT.
Free consultancy and outstanding customer service throughout
Not only do we lead the industry from a technology perspective, but our team of dedicated professionals offer best practice advice / consultancy and a customer focussed approach which is second to none, with Lumus360, you also get:
The know-how to get 360 degree feedback right
Access to our free questionnaire design service
A bespoke and branded 360 assessment tool to meet your needs.
Outstanding client support.
Free access to all the resources and supporting materials necessary for success.
Looking for something else?
Check out our other 360 feedback products