Ultimate Guide: What is 360 Degree Feedback?
360 degree feedback is a method of gathering feedback on an individual (also known as the 'participant') from a number of people who know them well and work with them on a regular basis. Typically the participant will receive feedback from their line manager, a group of peers, their direct reports and sometimes a group of other people that they have worked with. The participant completes a self-assessment questionnaire, then an identical questionnaire is sent to the group of people giving the participant feedback. At the end of the process a 360 feedback report that usually utilises a combination of numbers, visual aids (e.g. bar charts or spider graphs) plus some free text comments is produced.
360 degree reviews are predominantly used as a learning and development tool and its main benefit is that it gives participants actionable insight into their skills, performance, and working relationships.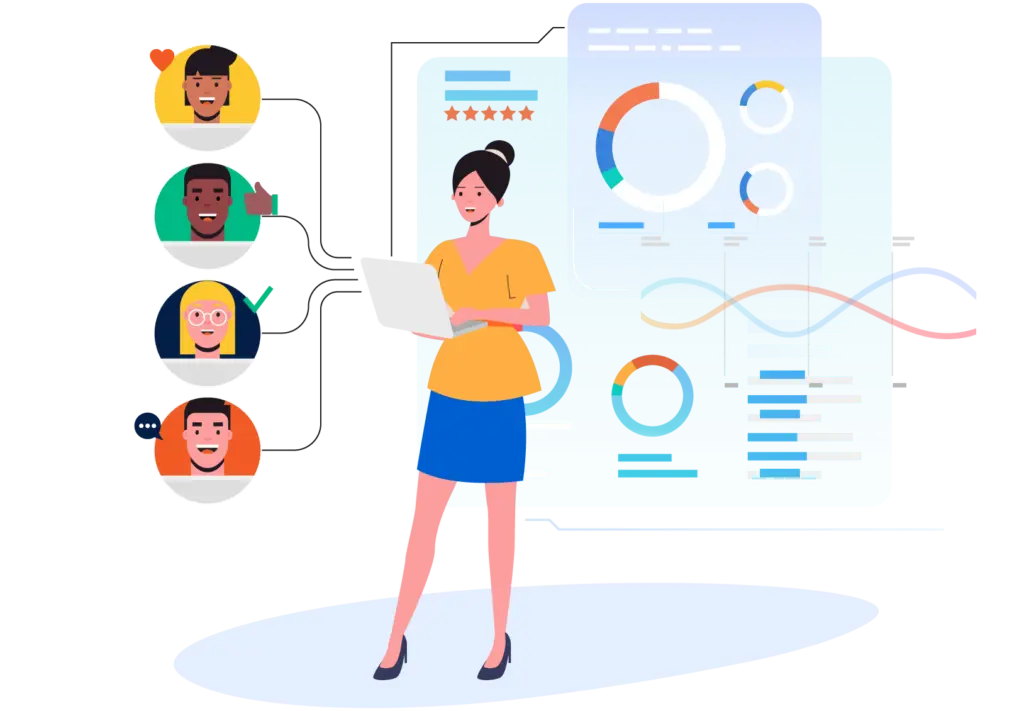 History of 360 Evaluations
The first known use of 360 degree feedback can be traced back to the German military during WWII, used to evaluate the performance of the troops. Soldiers received feedback on how to improve their performance from their supervisors, peers and subordinates. In terms of documented use of questionnaires to complete 360 feedback, this goes back to the 1950s when Esso Research and Engineering developed their own 360 feedback process, providing anonymous feedback to employees from a selection of colleagues who worked with them.
360 degree feedback was held back from its full potential and remained rather niche for some time, due to the feedback being handwritten and therefore being impossible to achieve full anonymity. As time has passed and technology progressed, the process has become more automated and efficient. Moving on from a manual, paper based system to an automated, online process. This has allowed for less of an administrative burden as well as more reliable anonymity.
How 360 Degree Feedback is Used
360 assessments are predominantly used as a development tool to help employees recognise their strengths and weaknesses and become more effective.
The 360 feedback process shows the participant the differences between how they see themselves and how others see them. This increases their self-awareness which means that the participant is more conscious of their personality, strengths, weaknesses, beliefs, motivations etc. With this information they can adjust their behaviour and identify their training needs. As a consequence of this, the participant can become more effective in their role and for the role they may be aiming for.
360 feedback is extremely useful on an individual basis, but there several purposes to use it from the organisation's perspective:
Supporting middle and senior managers to take their performance to the next level
Changing the management culture/embedding expected leadership, organisational behaviours, values etc.
Ensuring leadership and management development programmes have a clearly defined agenda based on real needs
Less commonly, 360 feedback is used by some organisations for performance appraisals. Whilst this is possible, it is not usually recommended. 360 feedback is ideal for measuring how a participant is perceived by their colleagues with regards to their leadership, character, teamwork etc. 360 degree feedback is too much of a subjective process to use for performance appraisals and you risk participants trying to 'game' the system.
360 Feedback Strengths and Weaknesses
360 degree feedback is such a powerful tool in aiding your leaders to develop and become the best version of themselves. But there are a number of pros and cons to keep in mind when considering running a 360 evaluation.
A well implemented 360 feedback survey has many benefits, including:
Greater understanding of the behaviours required to improve both individual and organisational effectiveness
Being more self-aware
Increased individual ownership for self-development
Helps develop a culture of continuous improvement
Creates a culture of open feedback
Allows people to know how they are seen by those around them
It provides more diverse, well-rounded feedback compared to 1-on-1 feedback
There are a number of weaknesses of a 360 evaluation if implemented poorly, including:
Employees being feeling overwhelmed by the additional workload
Creating conflict where anonymity is not retained
Participants feeling 'lost' if there is a lack of follow-up to the 360 process - this can lead to a loss of confidence in the process
Participants can become focused on negative feedback
How to get the most out of 360 degree feedback
Before you get your 360 feedback process underway, there are a number of elements to consider to get the most out of the process:
Make it confidential - When feedback respondents understand that their feedback, this leads to far more honest and candid feedback, resulting in a far more useful 360 degree feedback report at the end of the process
Keep the 'cost' in mind - Not necessarily in terms of monetary cost. But the time commitment that the process will take from employees. There are a number of factors to keep in mind with this:

Is it the right time for the organisation? - A 360 feedback questionnaire - whilst not a massive burden - is another item on the to-do list. Ideally 360 should be carried out during a 'quiet' (or quieter) time for the organisation
The length of the 360 feedback questionnaire - A questionnaire that is too long will result in lower overall completion rates. We recommend keeping it under 60 questions
Number of respondents - It is really important that participants get feedback from their colleagues who know them best. That being said, it is not necessary to invite the whole organisation, as this can result in an overload of questionnaires for particular employees to complete
Close