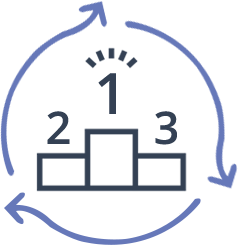 360 Feedback Reports
Standard 360 Feedback Report
Continually improved from the feedback of 1000's – Our individual feedback report is clear, concise, understandable and easy to interpret. Download a sample 360 feedback report
You can also find out more about our 360 feedback reports - How they are structured, their benefits and how they can be used
Comparative Report
The Lumus360 comparative report is a 'bolt on' to our individual feedback reports that combines and summarises the results of a participants' old and current 360 reports, enabling meaningful behavioural change to be seen and monitored. View a sample comparative report
Manager's Summary Report
The Lumus360 Managers Summary Report has been specifically designed to provide line managers with a comprehensive overview of an individuals 360 report. The report provides line managers with the high level information needed to hold focused development discussions. View a sample Managers Summary report Or you can learn more about the reports content and how it can be used
Group Summary Report
The Group Summary Report combines 360 degree feedback data from a group of participants into one consolidated report, designed to provide senior HR practitioners, executive teams and development professionals with high level insight into management development themes, culture and performance trends. Download a sample Group Summary report.
Or discover more about our group reports – format, content and how it can be used to identify group wide development needs
Looking for something else?
Check out our other 360 feedback products